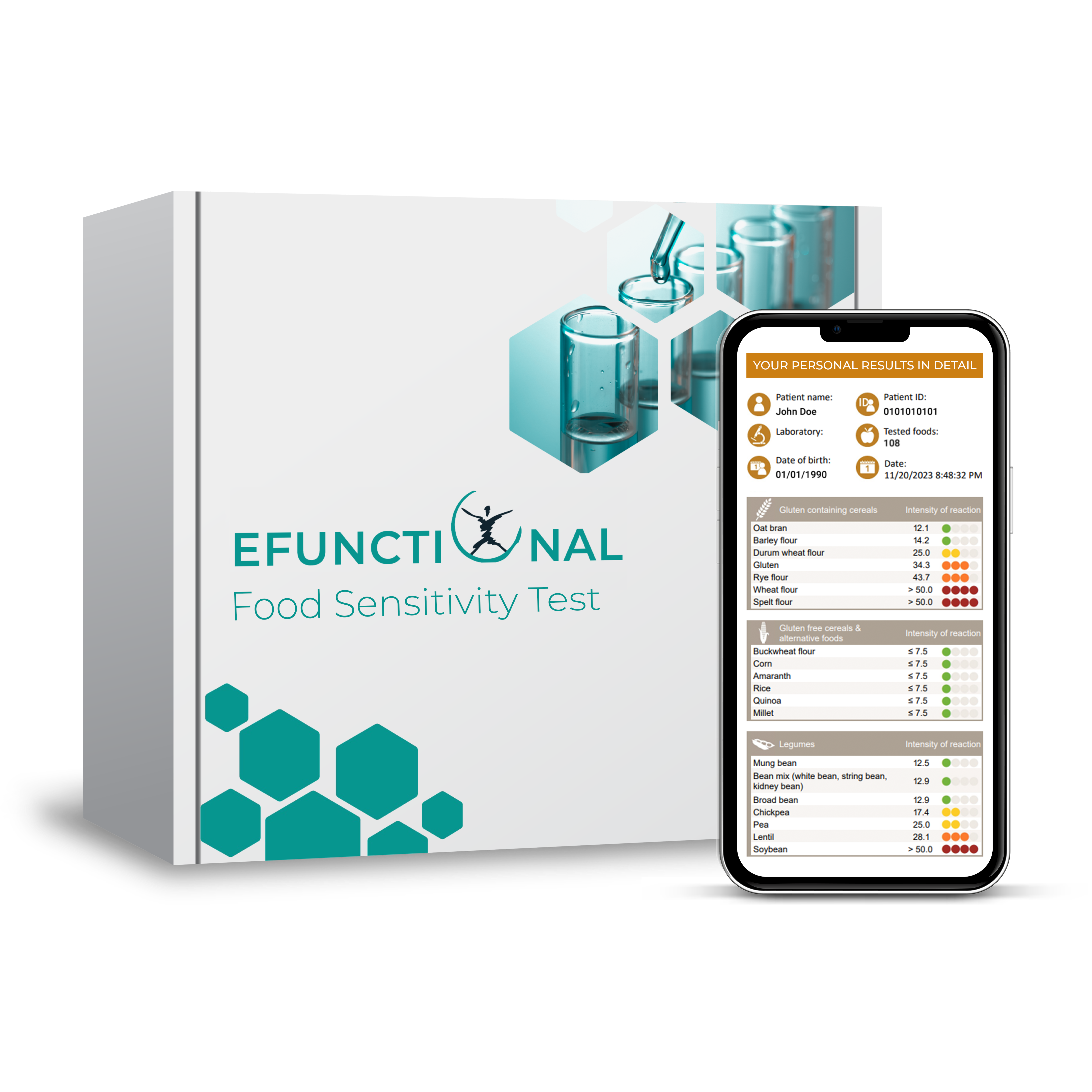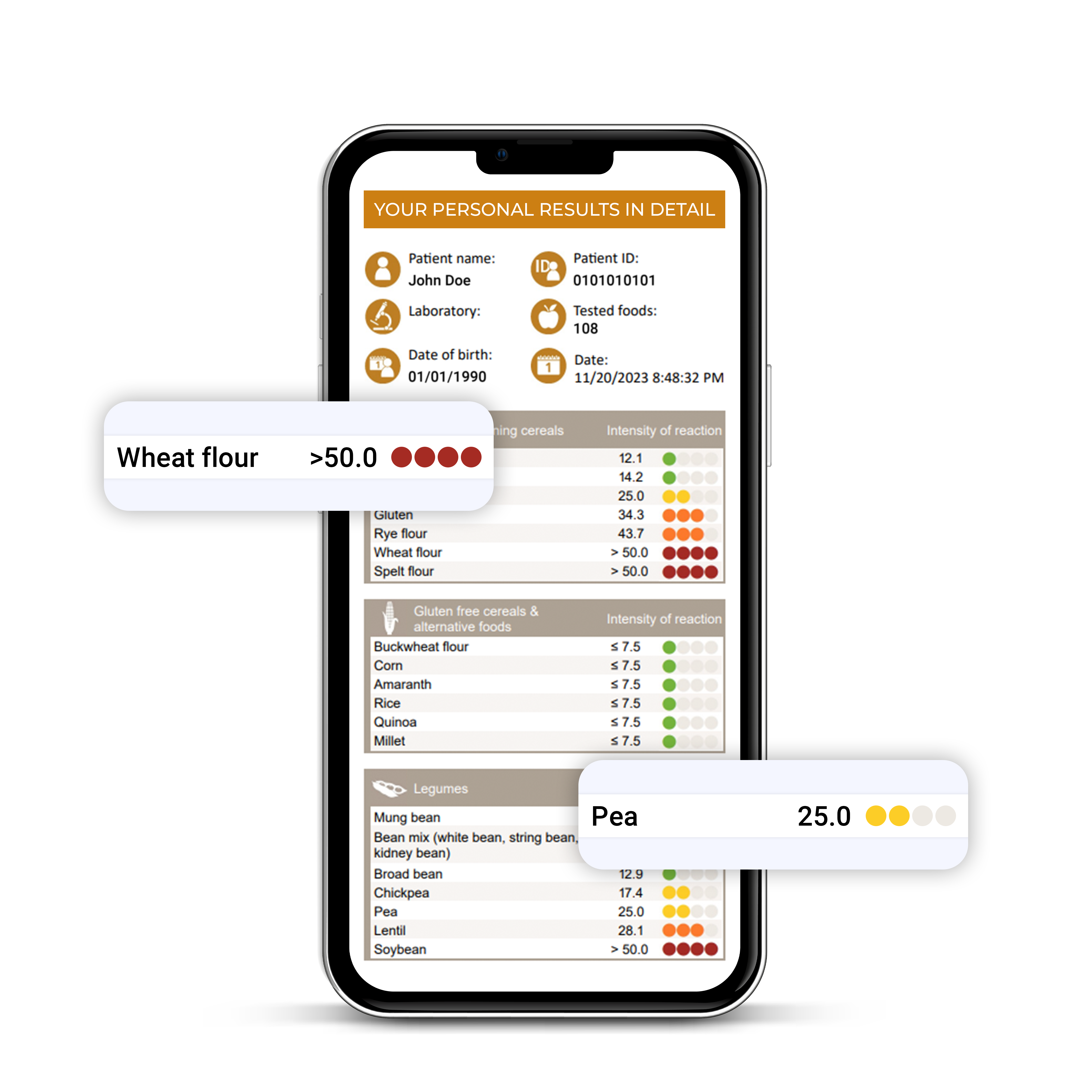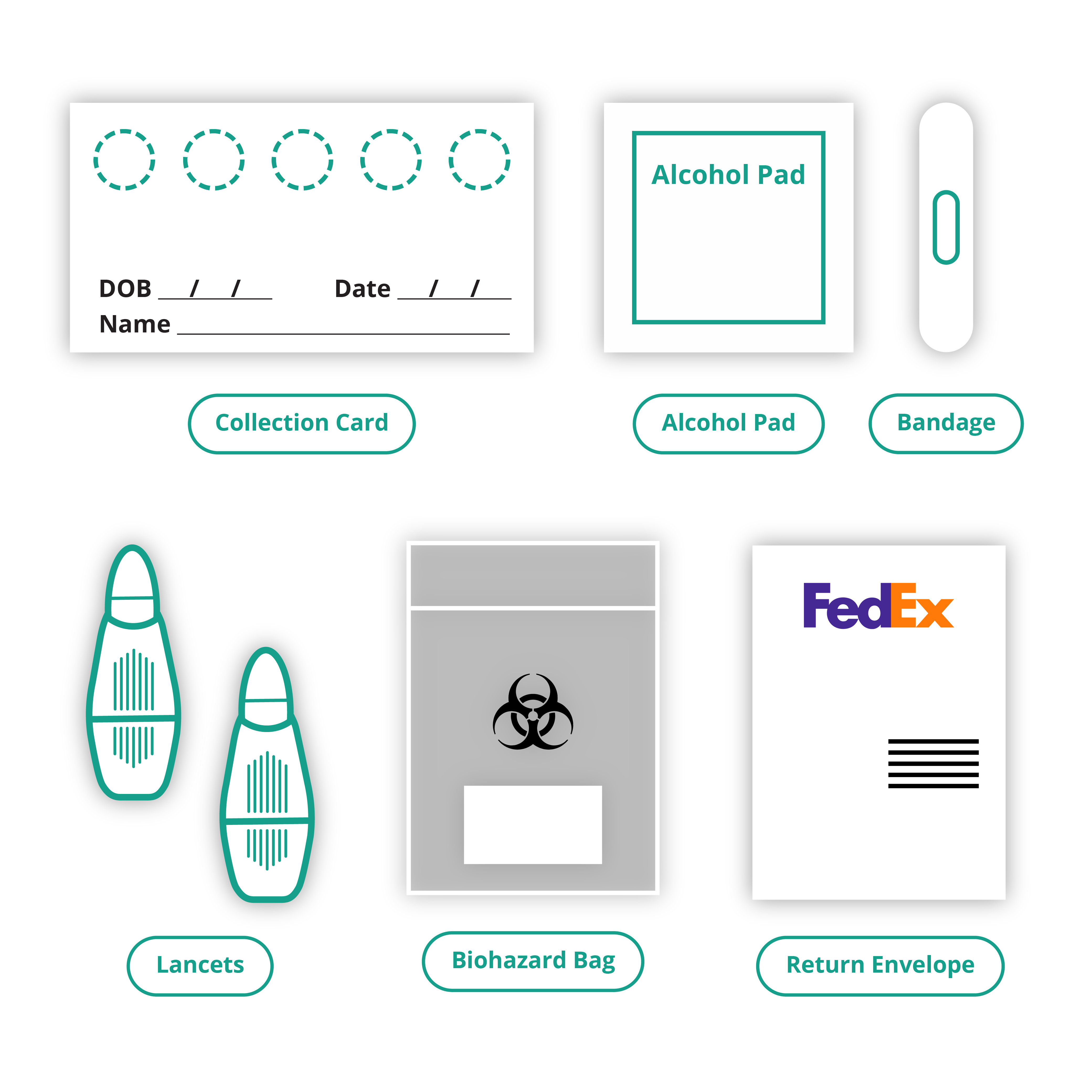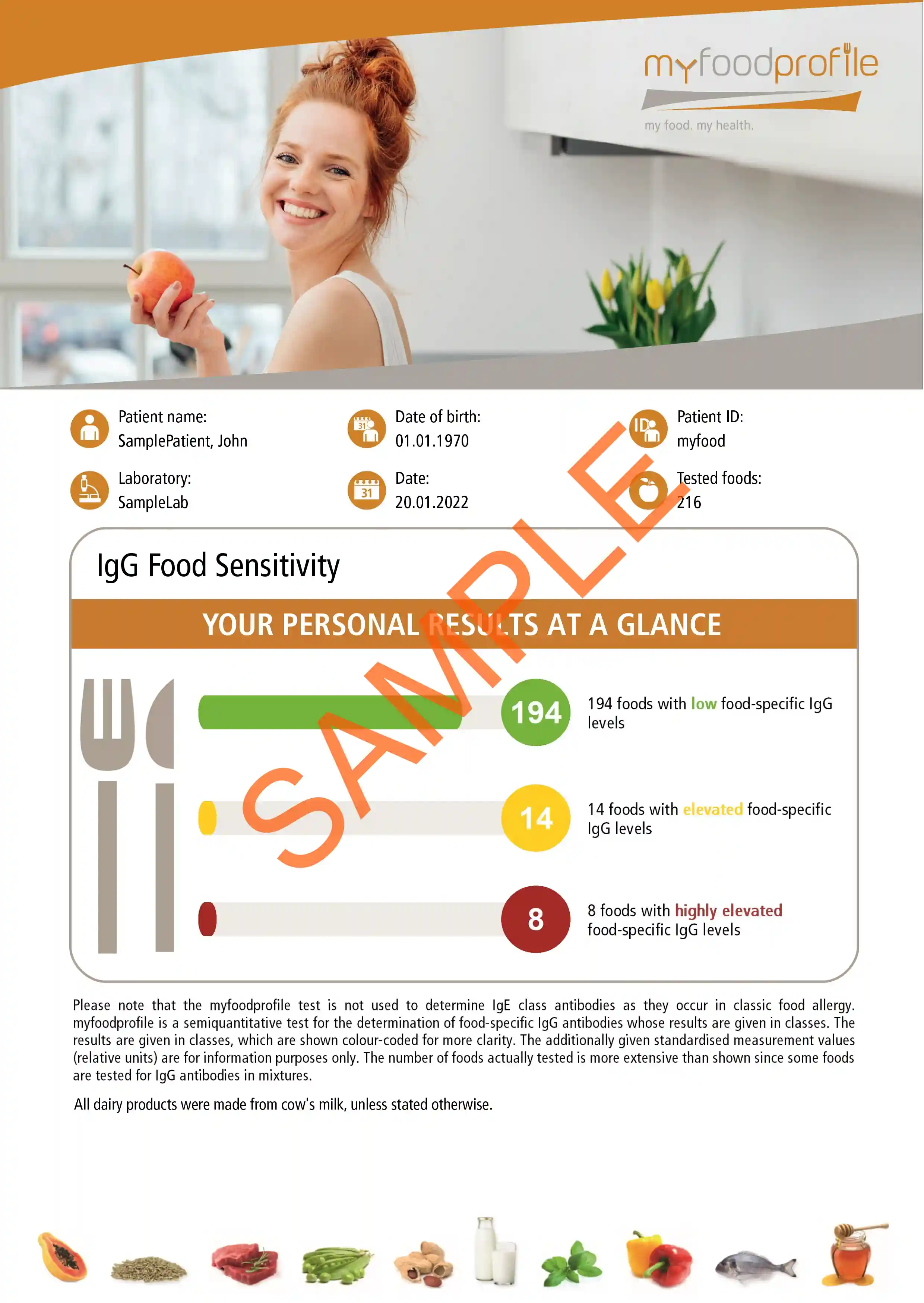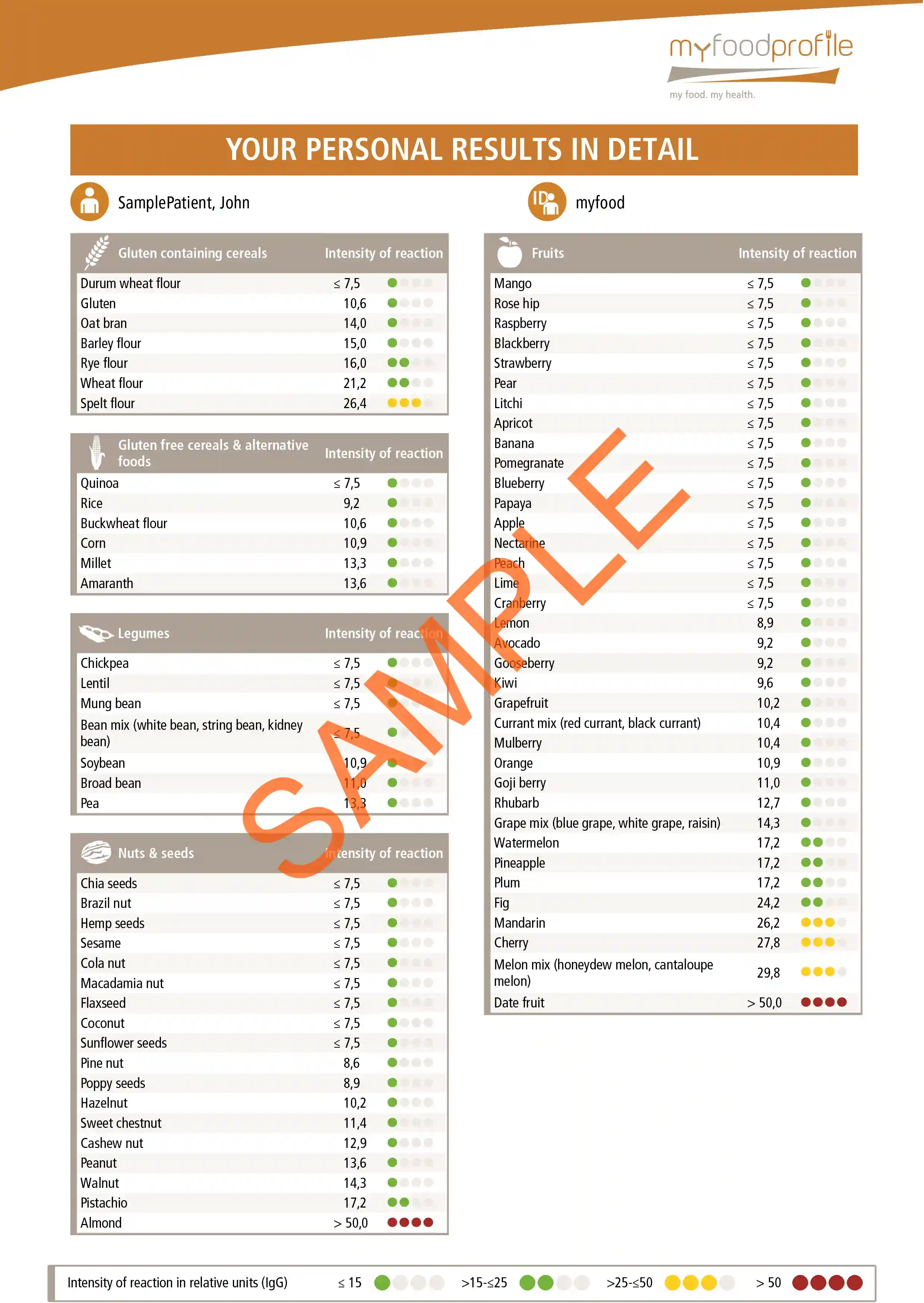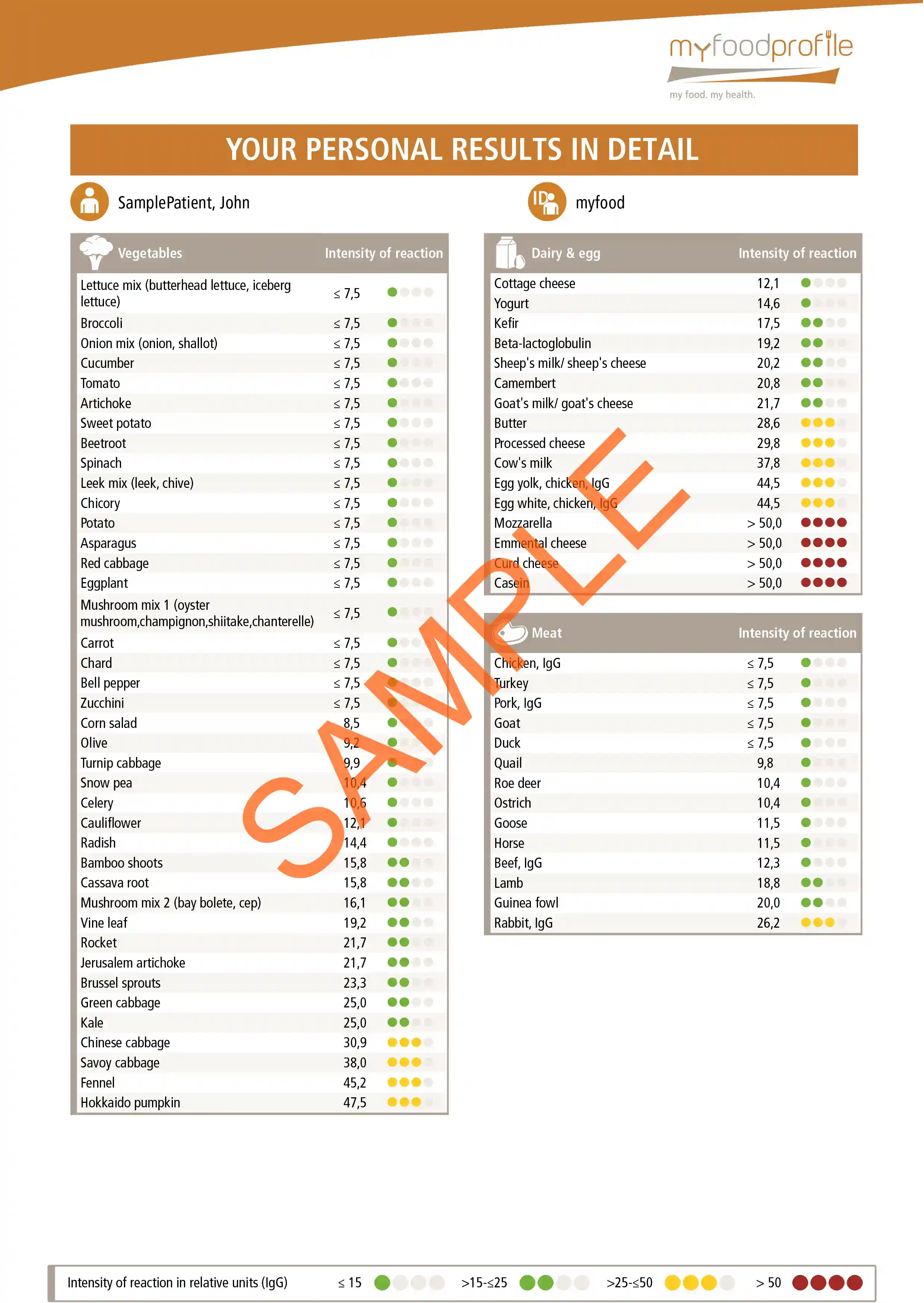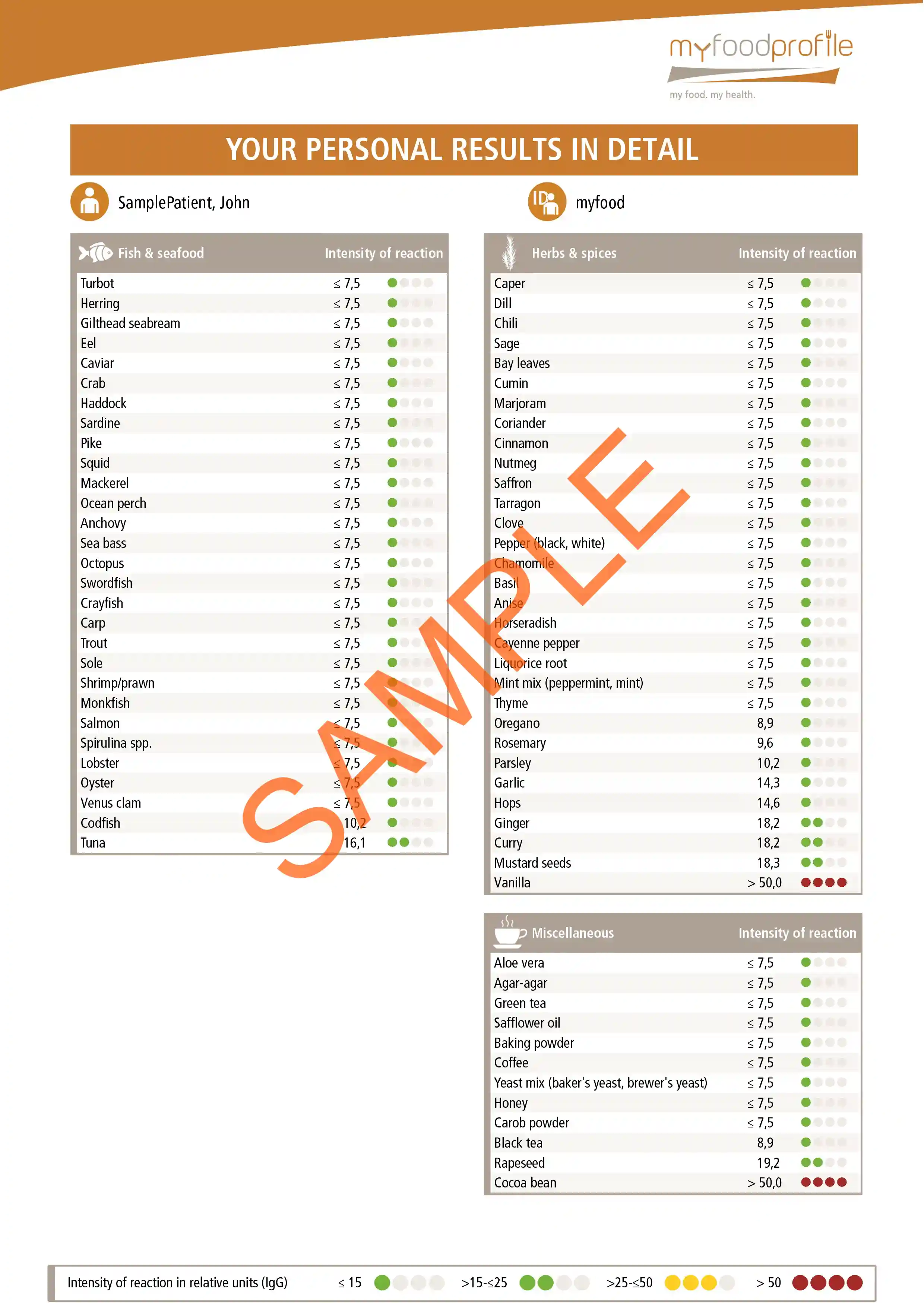 Food Sensitivity Test (108 Foods)
The Food Sensitivity test can be used to guide an elimination diet and figure out what foods cause you discomfort. The test measures your immune response to different foods using self-collected dried blood spots.
Tests For: The Food Sensitivity test measures a specific type of immune response, IgG antibodies, that may be related to how well you process and digest food. This is different than an allergy, which is caused by IgE antibodies.
Full List of Foods
Sample Report
Collection Method: Finger Prick.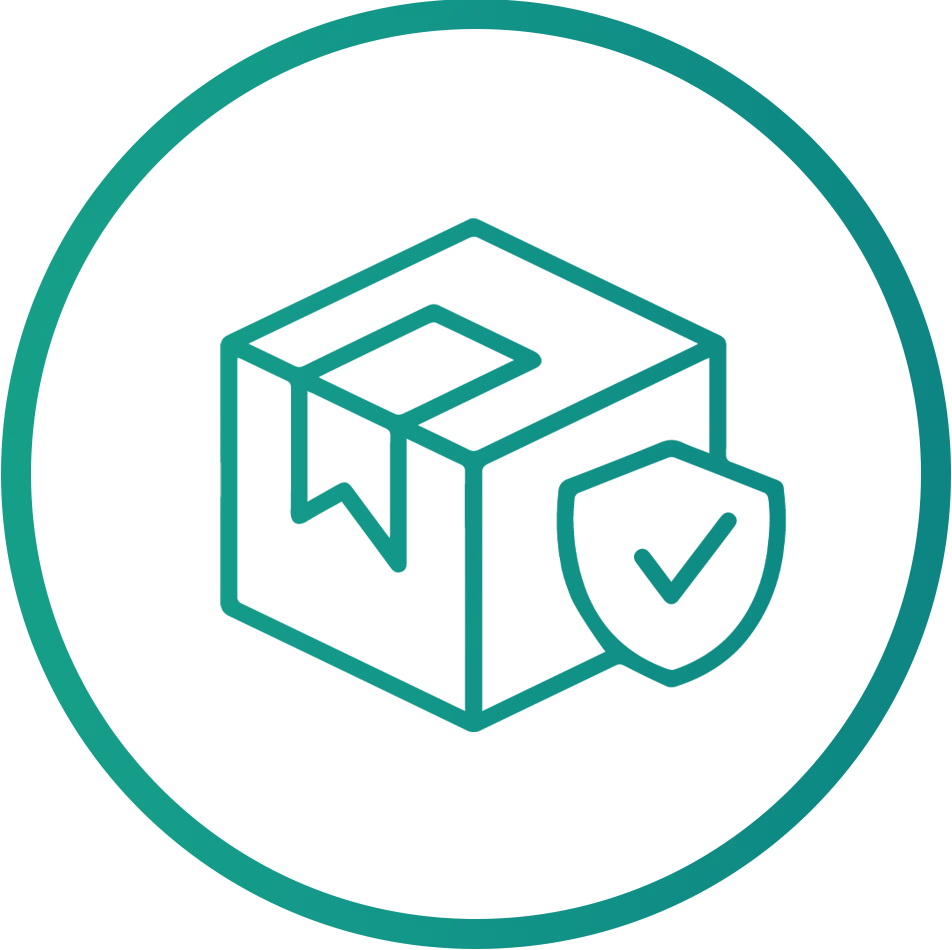 Discreet Packaging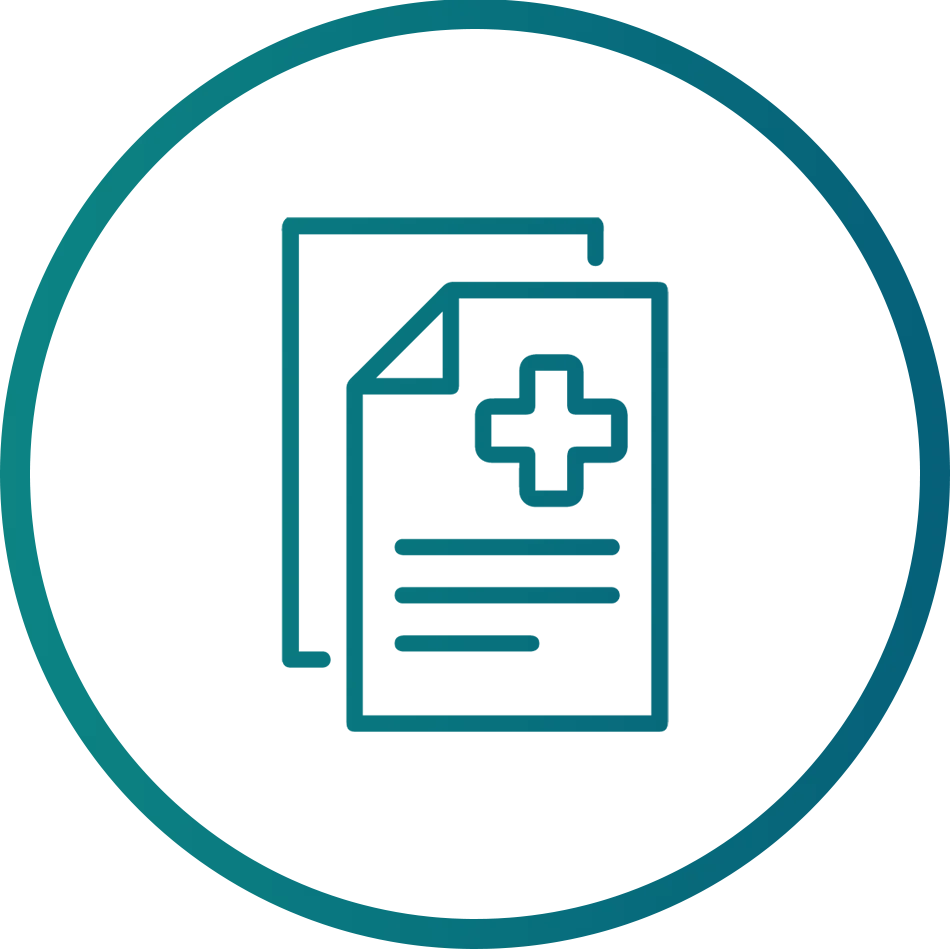 Confidential Results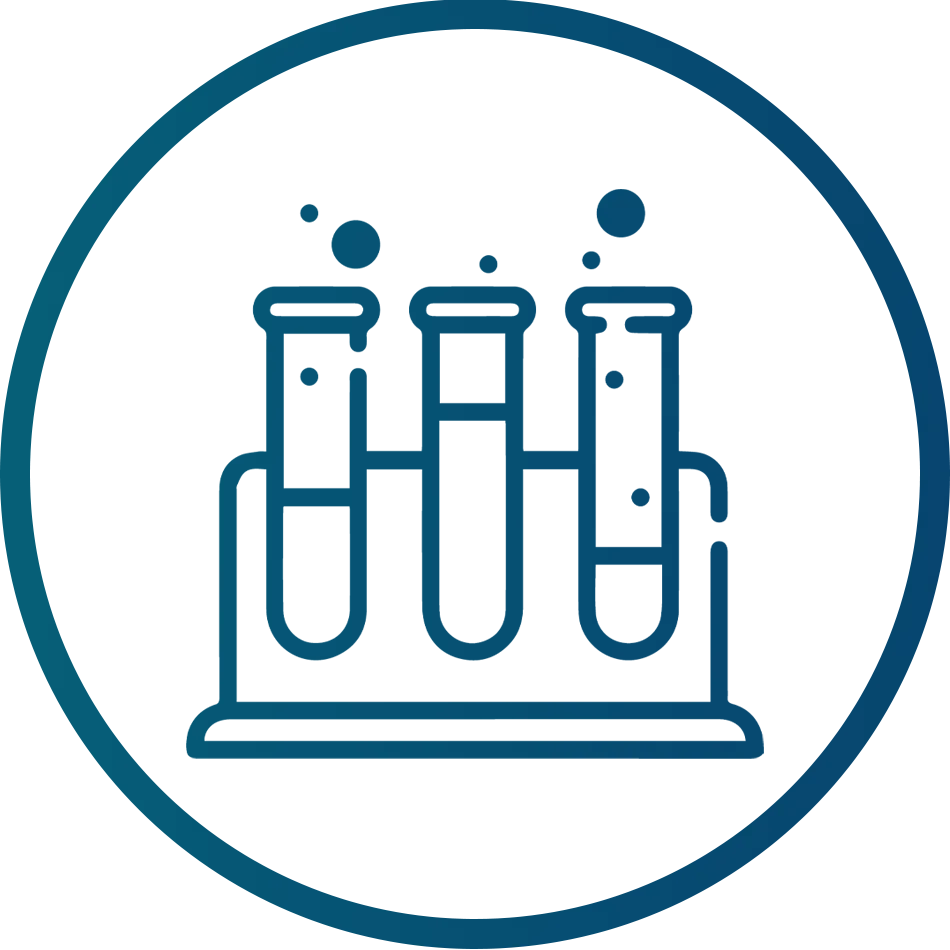 Trusted Laboratories
Add to cart
About this test
Food sensitivity
Symptoms
What's measured
Food sensitivities refer to problems with processing or digesting certain foods. Common sources of food sensitivities are:
Dairy/lactose

Gluten (proteins found in grains like wheat, barley, and rye)

Eggs

Caffeine (a natural stimulant found in coffee, tea, soda, and energy drinks as well as chocolate)

Salicylates (natural chemicals that are found in a wide range of foods, including fruits, vegetables, teas, coffee, spices, nuts, and honey; also used as a food preservative)

Amines (natural chemicals commonly found in fermented foods)

FODMAPs (fermentable oligo-, di-, mono-saccharides, and polyols — specific carbohydrates and sugars that can draw water into the digestive tract)

Sulfites (a chemical found naturally in grapes and aged cheeses; also used as a preservative in food, drinks, and medications)

Aspartame (an artificial sweetener)

Monosodium glutamate (MSG — a flavor-enhancing food additive)

Yeast

Food coloring
Symptoms of food intolerances can vary, but the most common symptoms involve the digestive system. In some cases, symptoms of food sensitivities may affect the skin and respiratory system. Unlike food allergies, food sensitivities don't cause life-threatening symptoms, but they can cause discomfort that typically starts within hours of eating and can last for days.
The best way to deal with food sensitivities is to cut the offending foods from your diet. This test can help you prioritize which foods to try eliminating. This test may be useful if you experience any of these common symptoms of food intolerance:
Diarrhea

Bloating

Nausea and stomach pain

Reflux

Headaches

Fatigue

Runny nose

Rashes or skin flushing
Please note: take care when eliminating foods from your diet. A restrictive diet can lead to nutrient deficiencies and malnutrition. If you plan to eliminate foods for longer than a couple of weeks, it is recommended that you contact a nutritionist.
The Food Sensitivity test measures a specific type of immune response, IgG antibodies, that may be related to how well you process and digest food. This is different than an allergy, which is caused by IgE antibodies.
This test measures your body's immune response to 108 foods.
How it works
Order your test kit online
Rediscover Food Sensitivity - test kit delivered right to your home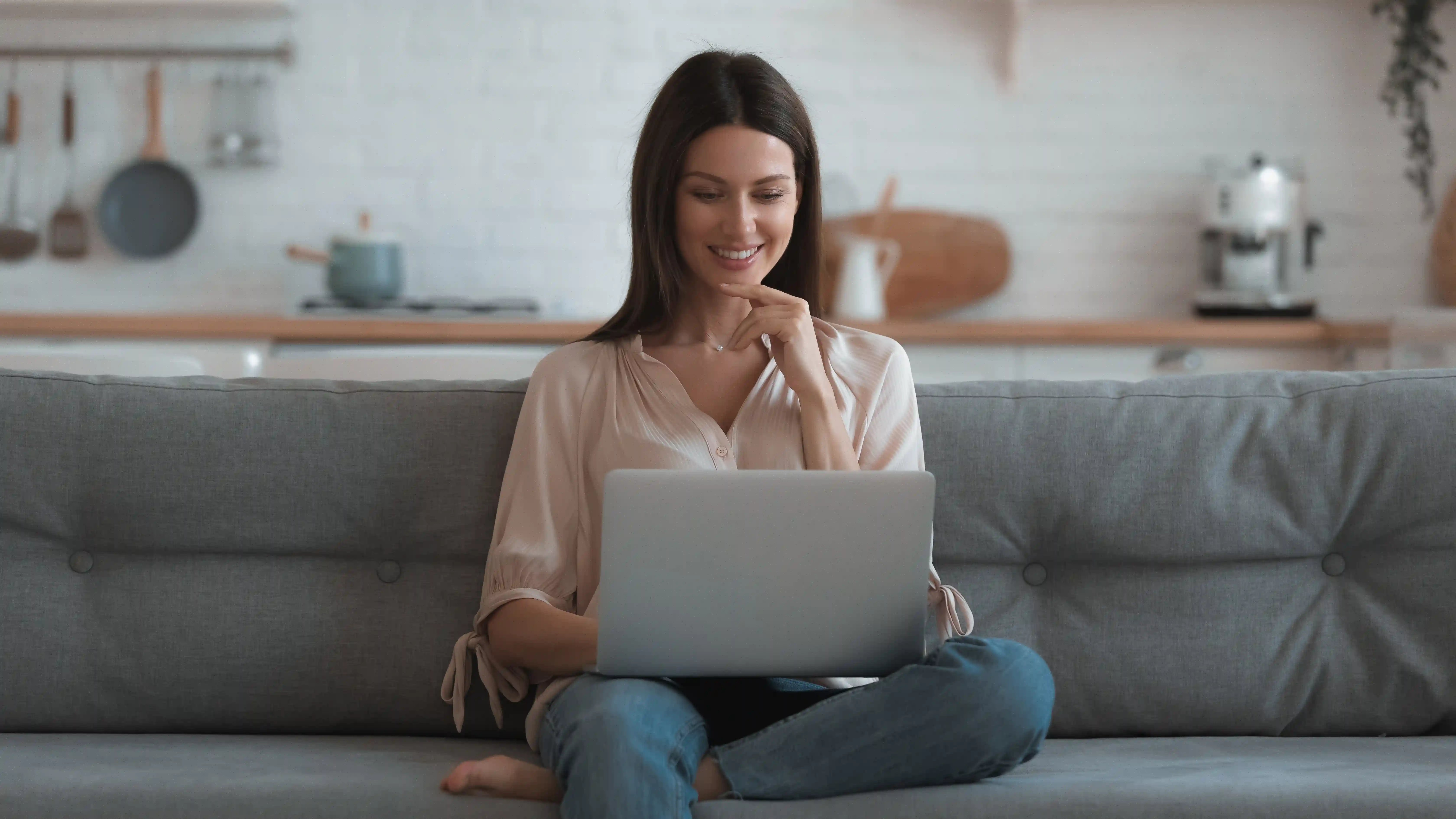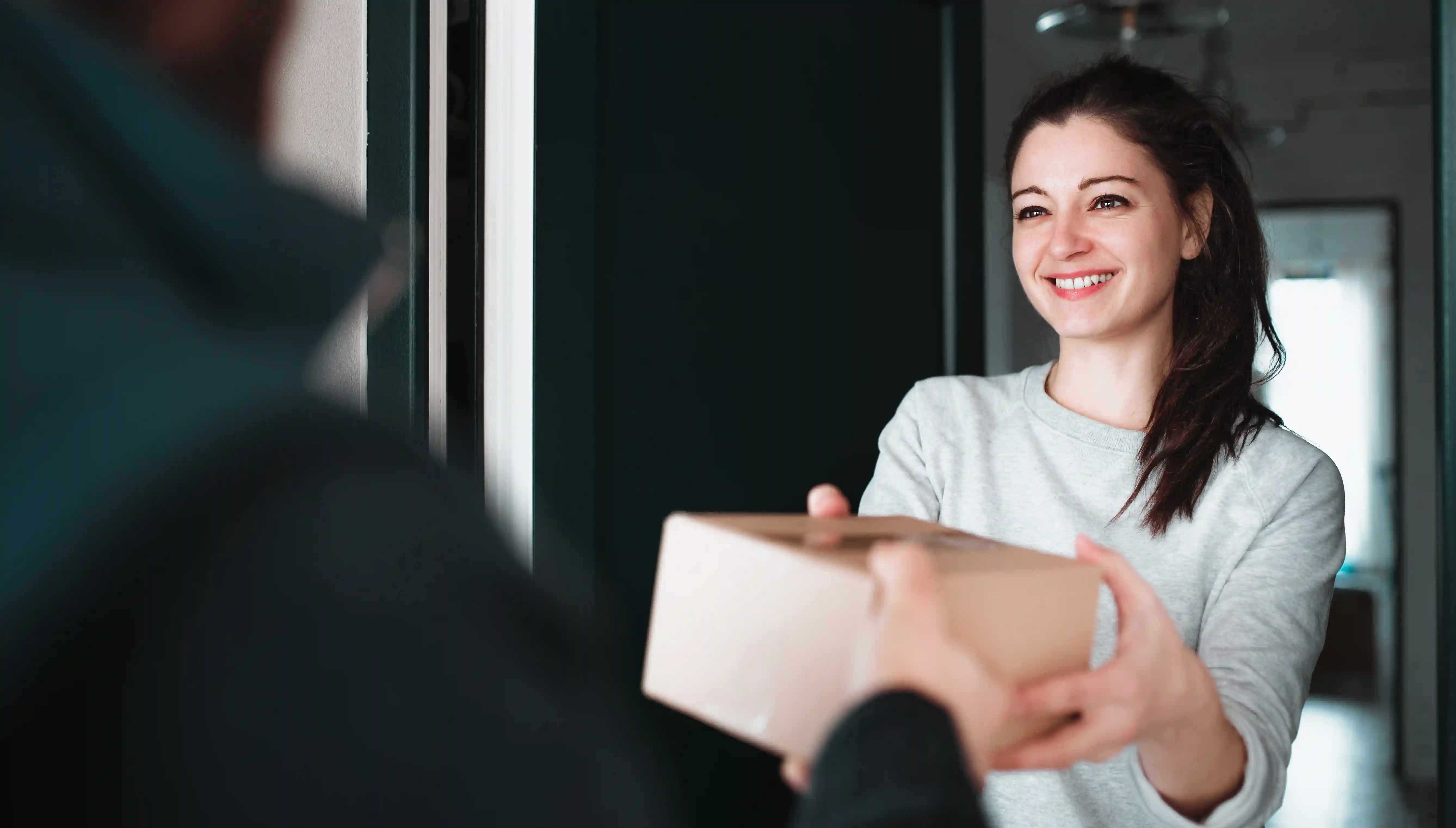 Free and discreet delivery
Our home collection kits are delivered free of charge in a plain envelope with no reference to Efunctional
Easy sample collection
Collect your sample from the privacy of home. Easy-to-follow instructions and video tutorials are provided. Return your sample to the lab at no cost to you, using the prepaid shipping label provided. How to collect your sample →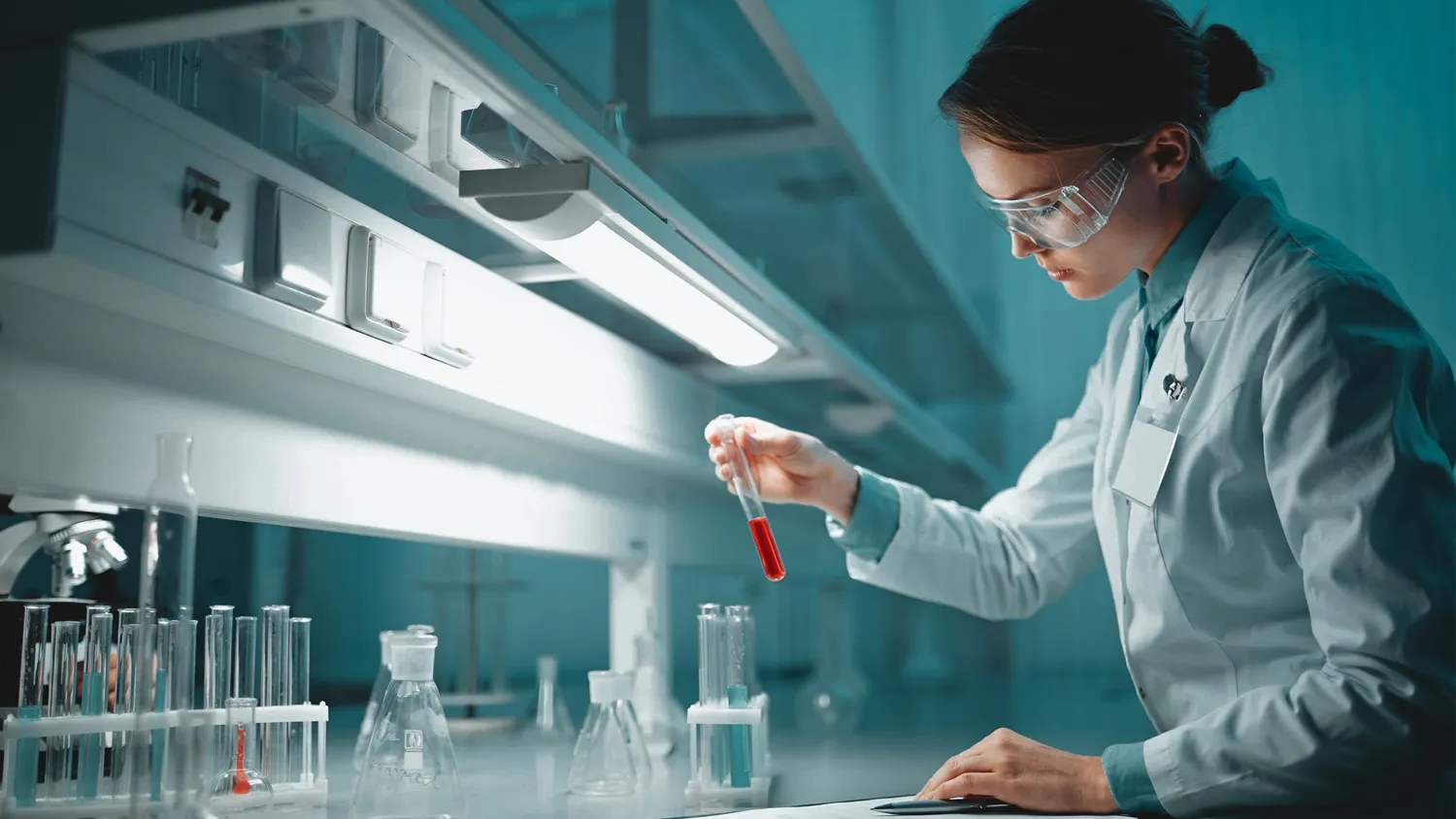 Fast and accurate processing
Your sample will be sent to our network of CLIA-certiified laboratories. These are the same labs used by primary care providers and hospitals
Secure and confidential results
Results typically provided in 2-3 days
Secure patient portal to view results
Helpful education from our clinical experts
Oficial lab report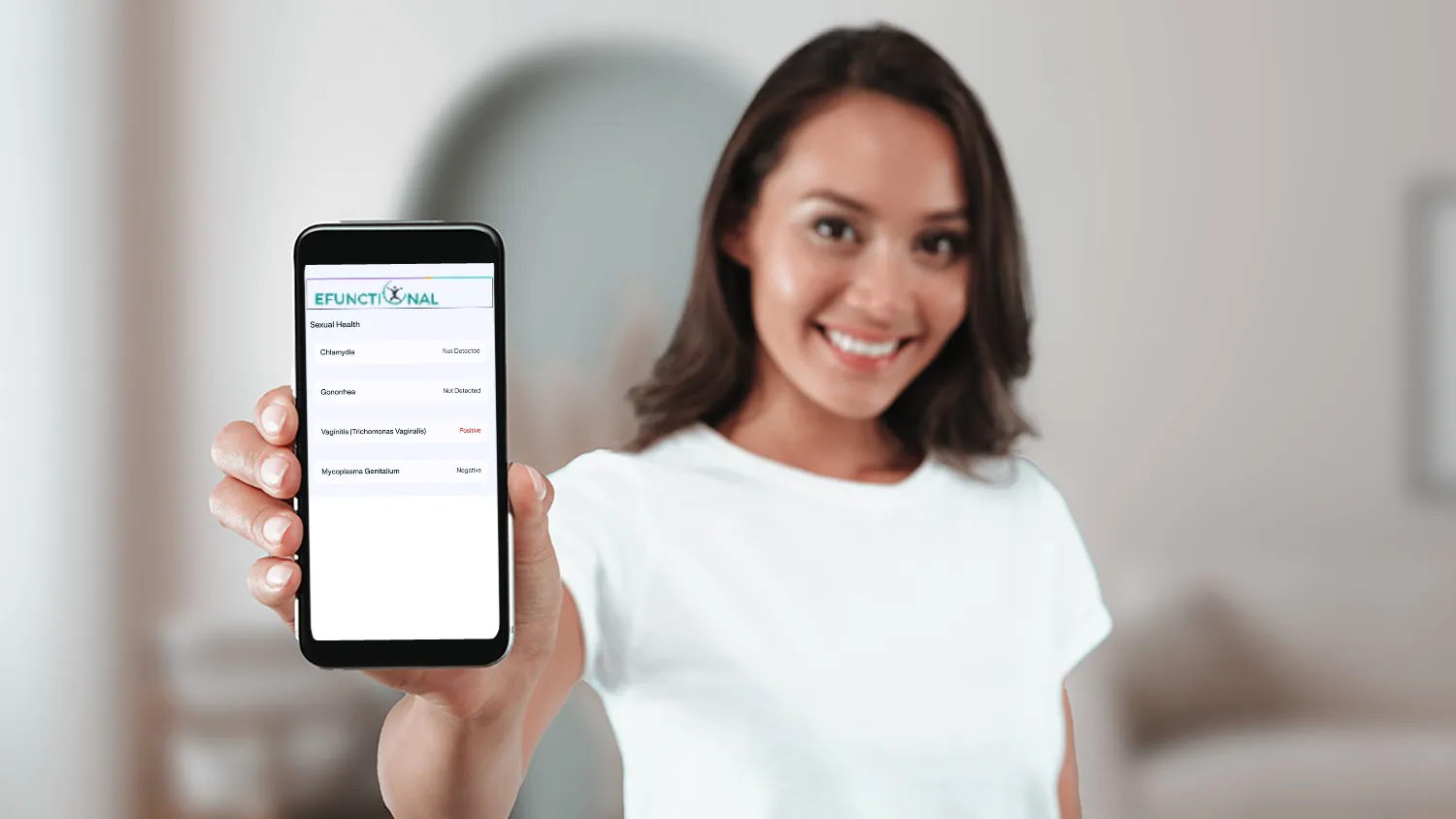 Physician oversight
Our network of board-certified physicians review each test kit order as well as the results
Customer Reviews
From ordering to getting the test results Efunctional was fantastic. I ordered the food sensitivity test and loved how detailed the report was that I received. I was also impressed by how fast the test kit arrived, how easy it was to use, and how fast I received the results. I highly recommend using Efunctional.
Hailey E.
After struggling with unexplained symptoms, this test helped identify triggers. Easy to use, comprehensive results, and it empowered me to make informed dietary changes. Highly recommend for anyone dealing with unknown sensitivities!
Karen S.
I've tried various elimination diets with little success until I used this Efunctional test kit. It provided clarity on foods causing my discomfort. The detailed report was informative, guiding me toward a healthier, personalized diet. A must-have for anyone seeking to understand their body's reactions to different foods.
SN
Still have questions?
Should I stop taking my medication/vitamin supplement before I take this test?
You should not change any medication or supplements without first speaking to your physician.
Why do I need to activate my test?
Activating the test connects you to the unique alphanumeric barcode within your Efunctional sample collection kit. The laboratory cannot process your sample if the test is not activated and linked to you. You should only activate your test when you are ready to take your sample.
Are there medical professionals involved in the process?
Yes. Efunctional has a team of board-certified physicians who will review your order and results and have created detailed result breakdowns for your testing journey.
How is my privacy protected?
Keeping your personal data secure is important to us. We use appropriate technical and organizational measures to ensure security and confidentiality of your information, and only share your information where required to deliver our products and services or where we have a legal basis to do so. All samples are disposed of following analysis.
How accurate is the testing process?
Your samples are processed in the same labs used by primary care providers, hospitals and government programs. Efunctional laboratory partners are CLIA approved and CAP-accredited, which are the highest levels of accreditation.
Do you accept health insurance as payment?
We don't accept insurance at this time. We work to keep our tests as affordable as possible and our test costs are generally lower than the costs incurred from a trip to a healthcare provider.